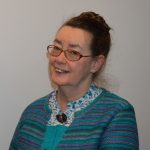 We are delighted to inform you that our Chairperson, Mrs Morag Munro, was awarded an MBE in the Queen's Birthday Honours List.
Morag is most deserving of this accolade having served Harris and the wider community most diligently over the years. She was involved in setting up Crossroads (Harris) and then served as an unpaid Co-ordinator for over 30 years. In this capacity she was constantly on call and gained the respect of local clinicians very quickly. She was highly respected by the care attendants and went that extra mile whenever a request was made. Together, they consistently scored the highest possible scores at Inspections. In addition to this, she was employed as Development Manager at Harris Voluntary Service where she was instrumental in setting up many projects for the benefit of Harris residents, both young and old. If that wasn't enough, Morag also served as a Councillor for the Harris ward for many years where her vast experience was valued.
Morag was involved in the setting up of the Western Isles Community Care Forum back in 1992 and we are pleased to say she is still very much involved. We are Blessed to have her as our Chairperson and she has always been very supportive of the staff, giving advice and encouragement whenever it is required.
We would like to congratulate Morag on being awarded an MBE and we sincerely hope that this award doesn't give her any ideas of retirement!